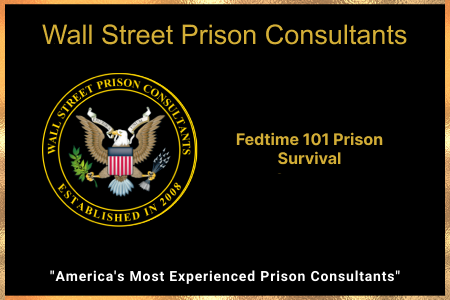 Forget about Orange is the New Black, Oz, and the rest. The Fedtime 101 prison survival program educates Defendants with the basics of surviving and thriving inside a Federal Prison BOP Institution. Defendant's learn not just what should happen, but really happens and is based on fact and the knowledge of Prison Consultant Larry Levine and the experiences he endured while in 11 different correctional institutions serving a 10 year Federal Sentence in the Federal Bureau of Prisons.
In reality, prisons are dangerous places and a breeding ground of lies, deceit and violence. While many believe they can rely on the prison staff for information and guidance, it generally isn't true! Prison staff, other then when it comes to writing up inmates for disciplinary issues, would rather not be bothered, and only does the minimum when it comes to helping inmates deal with problems and issues, basically leaving the inmates on their own to figure out how things work.
By taking the Fedtime 101 program, you will have an edge over others from the moment you arrive, in knowing what to expect, what the best jobs are, how to obtain medical care, and have the peace of mind of not making a costly mistake that can have lingering effects on your entire prison stay such as loss of good-time, visits, telephone use or commissary privileges.
Although we cannot and will not make decisions for clients, we do bring relevant information to their attention that their lawyers, or most likely their paralegal may have over-looked that could have serious implications regarding the amount of time they end of being sentenced to, or being hit monetary fines or restitution.
Let us help you make educated decisions on your legal issues.
About the BOP
Module A

Federal Prison History
Types of Federal Prisons
Custody Classifications
Security Classifications
BOP Staff Job Descriptions
Dealing with BOP Staff
Writing Up a Staff Member
Why Staff Lie to Inmates
Why Staff Dislike Inmates

 

Living On The Inside
Module B

Self-Surrendering
What to Bring With
The Daily Prison Grind
Inmate Living Conditions
Work Assignments
Avoiding Bad Prison Jobs
Educational Opportunities
Religious Services
Recreation Activities
The Commissary Inmate Store
Food Service-The Dining Hall

Inmate Prison Politics
Module C

Prison Slang & Lingo
Inmate Etiquette & Politics
Dealing With Other Inmates
Avoiding & Spotting Informants
Dealing With Gang Members
Prevent Being RAPED
How to Survive a Prison Riot
Defusing a Confrontation
Staying Out of Solitary
The Prison Black Market
Delaying Fines & Restitution

BOP Prison Policies
Module D

BOP Program Statements
Visiting Regulations
Mail Regulations
Telephone Regulations
Inmate Civil Rights
Personal Property
Trust Fund Accounts
Administrative Remedies
Incident Reports
Disciplinary Sanctions
Sanction Hearings
Unit Team-Program Reviews

Early Release – Good Time
Module E

RDAP-The Drug Program
Temporary Release Furloughs
Extra Time Off Sentences
How Good Time Works
Avoiding Good Time Loss
Calculating Release Dates
Half Way Houses
Home Confinement
Second Chance Act
Inmate Transfer Furloughs
Flying CON AIR

BOP Medical Services
Module F

Inmate Medical Care
BOP Medical Facilities
Medical Furloughs
Prescriptions – Pill Line
Psychology Programs
Inmate Dental Care
Medical Work Restrictions
Getting a Lower Bunk Pass
Getting a Soft Shoe Permit